VietNamNet Bridge – Going to China to purchase wooden furniture products is the choice of many people, who want to both travel to China and save money in decorating their homes.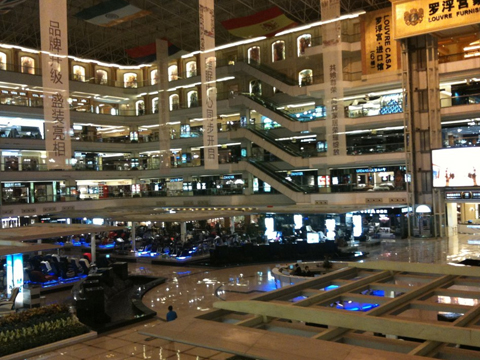 Hearing from friends that wooden furniture products in China are very cheap, which have the prices just equal to 2/3 or ½ of the domestic sale prices, Huong in Tay Ho district in Hanoi decided to go to Guang Zhou to seek wooden furniture to decorate her new home.
Huong related that one can go to China by land or by air. If he travels by air, he should book air tickets soon in order to obtain cheap tickets. If he travels by land, he just needs to contact the hotels which specialize in providing the service. There are some companies in Hanoi which can carry people to a locality in China neighboring to Vietnam's Lang Son province. From there, people can take coach to Guangzhou.
The hotel room rate in Guangzhou is relatively low: with just 400 yuan, people can stay at four star hotels. Huong not only had to pay for hotel room rates, but also for interpreter, because Huong cannot speak Chinese, about 300 yuan a day, while a yuan is equal to 3100 dong.
"If you go to China, you will be able to buy wooden furniture at the prices just equal to a half of that in Hanoi, even if counting on other expenses, including the meals, accommodation and travel fees," Huong said.
Showing the leather made set of sofas she brought from Guangzhou, Hang said she purchased them at 50 million dong. Before going to Guangzhou, Hang once dropped into some wooden furniture shops in Hanoi, where she was told that such a set of sofa was priced at 100-150 million dong.
The sets of wooden furniture for children, introduced by sellers as the import products, now available on the De La Thanh wooden furniture street, are priced at 25-30 million dong. However, according to Hang, in Guangzhou, people would be able to buy the products at just 12 million dong. Especially, the locality, people can find the products sourced from different localities in China and from Europe as well.
Vietnamese women also like door curtains made in China, which they think are cheap and have good designs. The sale price is 50,000 dong per meter only, just equal to a half of the price in Vietnam. However, Kien, the owner of a wooden shop on De La Thanh Street, said that Vietnam made curtain is more favored because of the better materials which are soft and cool.
"Guangzhou sourced products have good designs, but they have lower quality than domestic products. Chinese products are still being sold, because they are cheaper than domestic products," he explained.
Kien also said that those people who come to China would be able to purchase products at lower prices than in Vietnam. However, it is the transportation fee which decides the prices of products.
There are two ways of carrying goods from China to Vietnam. If people try to evade tax, they should not carry goods through the cross border gates. In this case, they have to hire porters to carry goods through the forests. The fee is about 1.2 million dong for every 100 kilograms of goods.
"However, no one wants to follow this way, because the products may get damaged, " Huong said. "Porters are only useful to carry curtains or small sets of furniture".
People would have big and valuable furniture products carried by container vehicles, which costs about 60 million dong for a 40 cubic meter container vehicle.
In the trade with China, Vietnam exports more wooden furniture to China than imports from the country. (Vietnam exported 405 million dollars worth of products in 2010, while it imported 169 million dollars.
However, Vietnam mainly exports timber materials, while it imports finished products.
An official from the General Department of Customs said the department has been reported about the smuggling and it is investigating the cases.
CV