VietNamNet Bridge – Several years ago, Chinese low-cost clothes flooded the Vietnamese market, where they did not meet any redoubtable rivals. However, the situation has become quite different.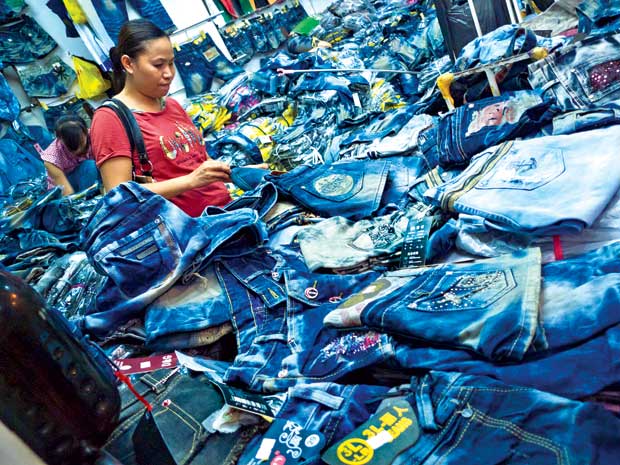 Classifying the product samples into three groups, Xuan, the owner of the fashion shop at An Dong Market in district 5 of HCM City, said: "C&T shirt is priced at 350,000 dong, O-D shirt 400,000 dong, while a pair of trousers is selling at 650,000 dong".
"The same prices applied by all kiosks in HCM City," she added.
Xuan, who has been trading Chinese clothes for the last many years, said that the age of Chinese low-cost fashion products is over, and only high grade products are now available. Vietnamese consumers have become choosey, and they do not accept low-cost products any more. Therefore, very few merchants still trade low cost products.
At An Dong Market, which is considered the biggest clothes wholesale market in HCM City, merchants said that 90 percent of products available here are the imports from China, which have high quality and brands. And of course, they are really expensive.
The age of low cost products over
At Maximark supermarket, nearly 100 percent of the clothes available at the "Green Fashion" stall are the imports from China. Lan, a loyal client, said she is so surprised when realizing that the Chinese products are very expensive. Trousers of different kinds are priced between 600,000 and 900,000 dong.
"At first, I thought that Maximark raised the retail prices, because it had to pay higher for retail premises rents. Therefore, I went to An Dong Plaza. But the prices there are the same," Lan said
She complained that after two hours at An Dong Plaza, she could not buy any clothes for middle-aged women which had the prices of less than 300,000 dong.
At Ben Thanh market, T-shirts, shirts, dresses and trousers sourced from China are all introduced by sellers as "high grade fashion products". Thu, a saleswoman said that nowadays, Chinese products are expensive. Only the products made by Vietnamese small workshops have low prices.
The appreciation of the Chinese yuan has also made the sale prices of Chinese products higher. Huong, the owner of the clothes shop at An Dong Market, said that since Chinese yuan has increased from 2800 dong per yuan to 3300 dong, a low-cost product would be priced at 250,000 at least.
Also according to Huong, the prices of Chinese clothes have increased by 40-50 percent due to the Chinese yuan appreciation. With such high price increases, Chinese popular products have become more expensive than Vietnam's. Therefore, it would be better for Huong and other merchants to sell Chinese high quality products.
Chinese products more expensive, Vietnamese more competitive?
The changes in the pricing of Chinese products have caught the special attention from Vietnamese manufacturers.
Ngo Thi Bau, the owner of Vietnamese Foci fashion brand, who has returned from China, said the input material prices and production costs have increased in China; therefore, low cost products will not be flow to Vietnam any more.
However, according to Bau, though Chinese products are getting more expensive, it is really not easy to compete with the products.
Dang Quynh Doan, the owner of Viet Thy Fashion Company, said that the wholesale purchase price is 215,000 per pair of trousers in China, an increase of 53 percent over the previous year. As such, the retail price in Vietnam would be over 450,000 dong. Meanwhile, Viet Thy can make the products with the prices lower than 10 percent.
Doan said it is very difficult for Vietnamese enterprises to compete with Chinese products in terms of designs, patterns. Vietnamese consumers tend to like the products with original designs and strange patterns.
SGTT