VietNamNet Bridge – Enterprises complain they cannot collect materials for production because the materials all have fallen into the hands of Chinese businessmen. Meanwhile, people complain that they have to pay too much for food.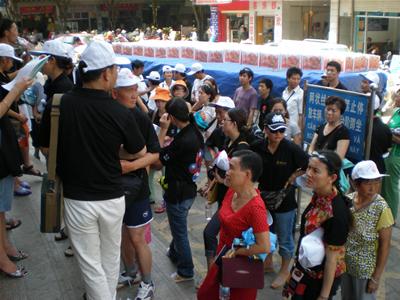 Lacking information, lacking control
While the public is getting angry with the information that Chinese businessmen have come to Vietnam to collect materials, thus pushing the prices up, Pham Quang Dieu, Chief Economist of Agromonitor, an analysis and forecast firm, said that there has been not enough evidence to conclude that the move of collecting materials by Chinese businessmen has caused chaos in the Vietnamese market.   
Dieu said that just a small change in the demand would be enough to seriously affect the import-export activities of China, a vast market with more than one billion consumers.
When Chinese businessmen come Vietnam to collect farm produce, this shows that they really have high demands for the products, and that the prices of the products more competitive in Vietnam. This should be seen as a good opportunity for Vietnamese enterprises and farmers to boost sales, if Vietnam can take full advantage of the opportunity to boost exports to the vast market.
However, in fact, not only enterprises, but state management agencies themselves are seriously lacking information about Chinese market. Vietnam does not know which products China needs, how much they need, and if the demand is just for short term or long term.
After setting foot in Vietnam, Chinese businessmen have set up a large collection network. They come to ports or to the fields to compete with Vietnamese merchants in collecting materials.
"On the negative perspective, Chinese businessmen have destroyed the structure of the domestic market, thus making the prices of farm produce escalate. Vietnamese businesses cannot collect materials for their production for the home market," Dieu said.
However, Dieu thinks that not only Chinese, but a lot of foreign companies have also set up the networks which have been collecting rice and coffee for the last many years.
He also does not agree with the opinions that the collection by Chinese businessmen has pushed the prices up and had led to the tax loss. He argues that when doing business in Vietnam, Chinese have to follow Vietnamese laws: they have to declare and pay tax as per the current laws.
Dieu went on to say that there is not enough evidence to conclude that the prices of food products, such as pork and eggs, have been pushed up. In fact, many changes have occurred with the husbandry industry, including the electricity and petroleum price increases.
Shortcomings exist in management?
Dr Nguyen Van Nam, former Head of the Trade Research Institute, said that when there are more buyers, farmers would have the chances to sell farm produce at better prices.
However, he said that the food price escalation shows the bad capability of the state management agencies.
He went on to say that there is no other country in the world which allows foreign businessmen to come in to collect products as easily as in Vietnam. Meanwhile, state management agencies should have known well about what the Chinese businessmen want in Vietnam and for which purposes they collect materials.
In the past, Chinese businessmen once came to Vietnam to collect anise tree root and buffalo toenails, which then destroyed Vietnam's production.
Nam said that Vietnam will not prohibit serious foreign businessmen, but they must set up businesses and pay tax in accordance with the laws. Meanwhile, economic activities in the Vietnamese territories need to be strictly supervised in order to be sure that the activities would not cause chaos to the domestic market.
Nam also said that it is now the right time for domestic enterprises to renovate the way of collecting farm produce from farmers. The collection needs to ensure the reasonable profits for involved parties.
Source: TBKTVN