VietNamNet Bridge - Vietnamese timber and wood product exporters will have to develop an elaborate system to ensure the legality of materials used to avoid the risk of losing their footholds in key markets like the US and the EU.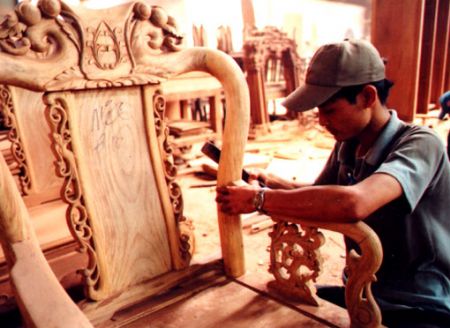 For instance, they would need to show they have procured wood from areas with approved forest management plans and appropriate cutting permits.
They would also need to ensure they are excluding illegal and other unwanted wood both at the forest where materials are acquired as well as at processing and manufacturing facilities.
These steps become necessary as the EU and US markets are set to toughen up import restrictions through the European Union Timber Regulation and the United States Lacey Act, a workshop held in HCM City heard yesterday.
The workshop presented participants with the salient features of the two pieces of legislation as well as with practical steps that would help reduce the business risk of illegal materials entering the supply chains.
The Forest Trust (TFT) and the Handicraft and Wood Industry Association of HCM City (Hawa) organised the workshop with support from the United States Responsible Asia Forestry and Trade (RAFT) programme under USAID.
The organisers said the steps outlined at the workshop would help local exporters gain market credibility.
They also said they would soon publish a handbook to instruct local wood product makers and traders to comply with the US and EU market requirements.
Michael Pescott of the TFT said the handbook would be based on practical experience draws from a pilot project conducted by TFT and Hawa at two factories in southern Binh Duong Province – Hiep Long Fine Furniture Company and Nguyen Thanh Furniture Company.
The book will include six steps, if implemented, "will provide a strong foundation to conform to US and EU legal requirements and therefore build … business marketability as a reliable and responsible supplier," he said.
These include mapping out supply chains, refining Chain of Custody (CoC) systems, implementing wood origin control systems, conducting a risk assessment and monitoring progress.
The US and EU are the two biggest markets for Vietnamese wood products (38 and 44 per cent respectively), and both have adopted laws prohibiting the import of illegal timber.
Under the LACEY Act, all wood products must have certificates proving they are made from legally exploited wood. Without a certificate, the products could be seized or destroyed.
Under the EU Forest Law Enforcement, Governance and Trade (FLEGT) that will take effect in 2013, companies exporting wood products to Europe must provide documents proving that the timber was legally logged.
Documents must include the timber's scientific name, the quantity being exported, and the country of harvest.
Companies found selling products made from illegally sourced timber will face severe penalties, such as confiscation of the goods, a possible jail term for those involved and a heavy fine.
Hawa deputy chairman Huynh Van Hanh said the Viet Nam and EU are currently discussing a voluntary partnership agreement on sourcing wood products to facilitate local wood product exporters.
The agreements will cover commitments and action by both parties to halt trade in illegal timber, notably with a license scheme to verify the legality of timber exported to the EU, contributing to sustainably managed forests and mitigating impacts of climate changes in the world, he said.
The two sides hope to sign a voluntary partnership agreement by the end of 2012, Hanh said.
Huynh Quang Thanh, director of Hiep Long Fine Furniture Company, said local wooden furniture makers are very dependent on imported wood.
Exporters, thus, have to clearly know about their sourcing and cannot simply rely on documents provided by sellers.
Viet Nam earned more than US$3.4 billion from wood products export last year, becoming Southeast Asia's leading wood products exporter. Export revenues are expected to top $4 billion this year.
Source: VNS