VietNamNet Bridge – Vietnamese processors have been warned that Chinese businessmen would continue flowing to Vietnam to scramble for farm produce, advising domestic enterprises to apply necessary measures to effectively compete with them.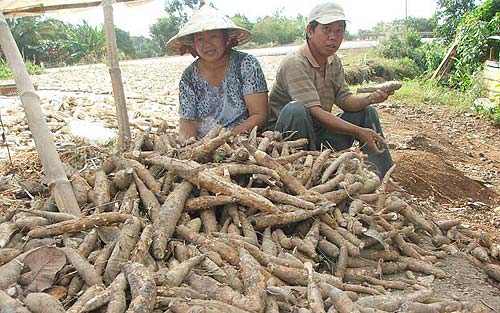 In fact, Chinese businessmen have been going to Vietnam to collect farm produce for the last few years. However, observers say they have never collected such big amounts of products and with such regular frequency. There has been no sign showing that Chinese businessmen would stop collecting materials one.
The presence of Chinese businessmen in Vietnam has been pushing the prices up, thus putting a heavy burden on Vietnamese consumers.
Nguyen Thi Thu Sac, Deputy Chair of the Vietnam Association of Seafood Exporters and Producers (VASEP), said in previous years, Chinese businessmen came to collect shrimp materials directly from farmers. Meanwhile, this year, they also collect other kinds of seafood from offshore fishing boats and ashore. Due to the material shortage, Vietnamese processors have to push the purchase prices up, but they still lack materials to process.
In the central region, Chinese businessmen come directly to shrimp ponds to collect shrimp from farmers. As a result, the white leg shrimp prices have surged to 90,000 dong per kilo (100 shrimp per kilo), while the price was just 57,000 dong last year.
Sac has expressed her concern that the difficulties in collecting materials, plus the increasingly high input costs (fuel, electricity, water and labor force) would kill seafood companies. Since the beginning of the year, 147 seafood companies have turned their back to the industry.
According to Sac, Indonesia has prohibited exporting seafood materials, while Vietnam should also thinks of applying necessary measures to preserve the material sources for domestic use.
Do Ha Nam, Chair of the Vietnam Pepper Association (VPA), said that it is estimated that 20 percent of the total pepper output has been collected by Chinese businessmen. If the current situation cannot be improved, this would badly affect the domestic pepper industry.
Meanwhile, according to Tran Thi Tuy Hoa, Secretary General of the Vietnam Rubber Association, the rubber exports to China account for 70 percent of the total output. Therefore, the association has advised its member companies to restrict the export across the border and push up the export through official channels.
Nguoi lao dong has reported that Chinese businessmen have been hunting for pigs, ducks and poultry eggs in big quantities. Pham Thi Huan, Director of Ba Huan Company, said that Chinese businessmen purchase dugs, hire local farmers to slaughter the dugs and then carry to China, where they process road ducks.
As a result, the duck prices have been increasingly rapidly from 60,000 dong to 120,000 dong per duck. Meanwhile, Vietnamese farmers try to sell ducks for money, even when ducks still can lay eggs, which has led to the sharp duck egg shortage.
Meanwhile, observers have reported the shortage of pigs in Dong Nai, Ba Ria-Vung Tau and Binh Duong provinces, the main supply sources for the southern region. Since Chinese businessmen have been collecting pigs, the pork price has increased by 4000-5000 dong per kilo (live weight) over the previous month to 63,000 dong.
In Hanoi, the pork price has surged to 68,000 dong, and in the northern provinces, the price has climbed to 70,000 dong. Chung Kim, Director of Kim Long Husbandry Company in Binh Duong said Chinese businessmen are still looking for supplies, therefore, the prices are expected to escalate further.
Nguyen Hai, Secretary General of the Sugar Association, said that over the last two months alone, 70,000 tons of sugar has been sold to China. It is expected that sugar would keep flowing to China which reportedly lacks one million tons this year.
Vietnamese Deputy Minister of Agriculture, Luong Le Phuong said that the farm produce material shortage in China is serious this year. In this case, Vietnam has become the most ideal alternative supply source.
NLD