Vietnamese movie stars to attend 64th Cannes Film Festival
A delegation of famous Vietnamese artists will travel to France from May 11 to 25 for the 64th Cannes International Film Festival.
The group includes actresses Tra Giang, Hong Anh, Thanh Hang, Anh Thu and Minh Hang.
The Vietnamese delegation will visit the UK and France, enjoy nominated films, and take part in gal dinner togther with world leading stars.
Attending the film festival is the best way for Vietnamese cinema to approach the world film industry.
Last year,actresses Truong Ngoc Anh, Ngan Khanh, Minh Huong, La Thanh Huyen, Mai Thu Huyen, actor Bao Son, directors Pham Viet Thanh, Ho Quang Minh, Nguyen Vinh Son and Nguyen Duc Viet attended the film fest.
The Vietnamese film Bi, dung so (Bi, don't be afraid) by director Phan Dang Di won two prizes of the International Critics Week at the 63rd Cannes Film Festival.
'Bi don't afraid' wins top prize at US film festival
"Bi, don't be afraid" directed by Phan Dang Di has won top honors at the Vietnam International Film Festival that concluded in California, the US, this week.
At the University of California Monday, it beat three other acclaimed films, "Floating Lives," "Saigon Yo," and "Antoine" to take the Bronze Drum for best feature film.
Horror film "Behind the Death" directed by Ta Nguyen Hiep won the Bronze Drum for best short.
Do Hai Yen and Dustin Nguyen won the best actress and actor awards for their roles as the protagonists Suong and Vo in Floating Lives.
In the audiences' awards category, Things you don't joke directed by Viet Nguyen and The fading light by Thien Do won the best short film and Touch by Minh Duc Nguyen won for feature film.
The biennial festival, which started in 2003, is held by two US non-profit organizations, the Vietnamese American Arts & Letters Association and the Vietnamese Language & Culture.
This year's event attracted more than 60 entries which were also shown at several universities.
Vietnam to choose hip-hoppers for Korea contest
The search is on for the country's best hip-hop dance troupes who will represent Vietnam at R-16, an annual international competition in Korea.
The regional elimination round this year will take place in Hanoi on May 7 and 8 at two different venues, including the Trinh Hoai Duc gymnasium.
Experienced hip-hop artists from USA, Canada, and Korea will judge the contests and choose the winners who will go to Korea for the July event.
Applications can be sent to contact@r16vietnam.com before April 20.
First held in Seoul in 2007, R-16 attracts top dancers from Japan, China, Thailand, Norway, Spain, the US, and other countries.
R stands for "respect" and 16 represents the number of troupes taking part every year.
The main event at the competition is B-boy where male dancers perform break dances besides popping and locking.
R-16 is also a festival for graffiti artists, street-wear designers, and other urban arts subcultures.
Last year Vietnamese dance troupe Big Toe entered the final round of R-16 and impressed judges and audiences.
Bac Lieu to turn heir's villa to resort
The southern province of Bac Lieu is calling for bidders to build a 4-star resort out of the residence of its legendary heir Tran Trinh Huy.
Tran Trinh Huy, called the Bac Lieu Heir by his contemporaries and later generations, was said to be so rich he burnt money bills to cook his porridge.
Nguyen Chi Thien, Director of Bac Lieu's Department of Culture, Sports and Tourism said Bac Lieu wanted to turn Huy's house to a resort to attract tourists.
Bac Lieu would also propose to the culture ministry to recognize the house as an "ancient" house, Thien added.
The house is located at 13 Dien Bien Phu Street.
Ao dai creations by Vietnamese designers to be showcased in France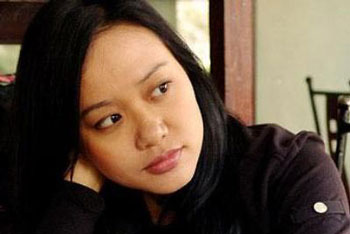 Actress Hong Anh

Three well-known Vietnamese fashion designers will present more than 120 ao dai (traditional Vietnamese dresses) creations during the Month of Vietnamese Culture in the Bretagne region of France from May 5-27.
Trong Nguyen, Viet Lien and Minh Hanh are among the country's leading ao dai designers, and will showcase their collections to the French public at the Gabriel Hotel and the Grand Theatre Square in Lorient.
While Nguyen's collection was inspired by the image of the phoenix, a symbol of nobility, Lien used strong colours combined with traditional embroidered patterns.
Veteran designer Hanh opted to use dark, hand-woven materials for her collection.
The ao dai is a symbolic image of the beauty of Vietnamese women, and an integral part of Vietnamese culture.
Jade Buddha statute presented to Japanese pagoda
A 60-centimetre tall Buddha statue made of jade was presented to Japan's Nisi Katsu pagoda by the Than Chau Ngoc Viet Gemstones and Jewelry Ltd.Co. at the Giang Vo Exhibition and Fair Centre on April 17.
This was one of the events during the two-day Genki Festival that concluded on April 17 in Hanoi.
Addressing the event, the pagoda's head monk, Yoshimizu Daichi, thanked the company in particular for the treasured gift and Vietnam in general for its support for the Japanese people especially during the time when they are all trying to overcome the consequences of the recent earthquake and tsunami. He said he hoped that there would be more exchanges to strengthen the friendship and solidarity between the people and the Buddhists in the two countries.
The Genki festival has been held jointly by the Vietnam Ministry of Culture, Sports and Tourism and the Vietnam-Japan Cultural Exchange Association since 2007 and attracts thousands of Vietnamese students every year.
This year's festival featured various activities including displays of silk cherry flowers and Japanese lanterns, Japanese food and Yosakoi dance, a traditional dance performed specifically at Japan's cherry blossom festivals.
All proceeds from ticket, souvenir and food sales will be donated to the Japanese victims of the recent natural disasters.