VietNamNet Bridge – Rock Saigon is not a burning, breaking-the-rule world of youth--but it is a gloomy world, where talents are wearing out gradually.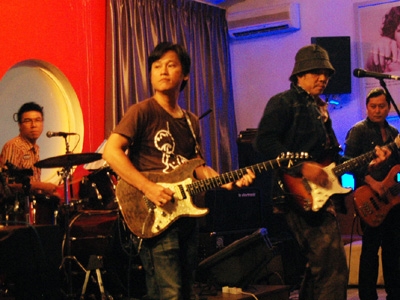 Rock bands have to perform at night clubs.
Linh, a senior rocker, said that rock music was imported into and developed strongly Saigon before 1975. At that time, rock music was favored and rockers were seen as freed and peace lovers, with moving anti-war songs.
The image of anti-war rockers of that time recently appeared in Trinh Cong Son's "Noi vong tay lon" (Circle of Unity), performed by rock band Unlimited D, which was warmly applauded by rock fans.
In the period of renovation (starting from 1986), Saigon's rock circle developed strongly, with famous bands like Yellow Skin, Black and White, The Morning, Bolt, Horizon, Sagometal, Ocean, Three Cats and Hac Kim Atomega.
At present, though rock music in Saigon is gloomy, the city is still the home to 25 rock bands, half of Vietnam's total rock bands.
Ho Quang Hung, a music critic, said that Saigon's rock is a community of rock lovers from universities and overseas students who return home from Germany, France, Australia, Thailand, etc. If rockers have their own stages to come closer to the audience, the city's young rock bands would prove that they are not inferior to their seniors.
UnlimitedD is an example. Rocker Viet Thanh is praised as one of the leading rockers in Vietnam at present. The band won the Superband prize at the National Festival for Musical Groups 2007. Its guitarist Tuyen Duc also took the Best Guitarist title.
Microwave is another example. The band was established in 2001. This is a true rock band since the band can write songs, dub and record music and even distribute their albums by itself. Microwave's "Tim Lai" is the most favorite song on radio Voice of Vietnam's Xone FM channel in 2006.
Linh, a member of "Four Coconuts" rock band, which group former members of many famous rock bands which were break-up in the 1990s, said that the biggest difficulty for rock bands now is the shortage of stages for rock music. Young rock bands in Saigon are facing the question: how can they live on music?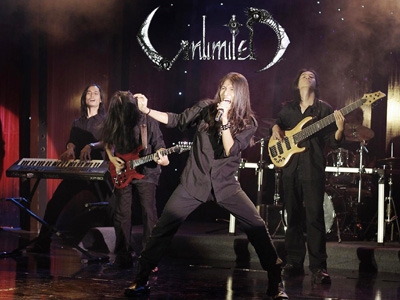 The Unlimited D rock band.
Trach Ngoc Linh, one of the two founders of Microwave, has left the band to work for an oil and gas company in Vung Tau city. Anyway, Microwave is still one of several rock bands that are sometimes invited to perform at big shows and events for the youth.
Though rock songs always attract huge numbers of listeners, they are only listened online or downloaded free of charge. Rock shows always attract huge numbers of audience but most of them are students, who can afford to buy cheap tickets or enjoy music free. Most of rock bands have to play other genres of music or earn their living in night clubs.
Le Hong Kim Lan, manager of Yoko night club, is considered "benefactor" of rockers, because Lan has offered a dozen of rock show a week but Lan is now tired. "Rock bands write their own songs, they never lip-sync but they are not attractive to customers by pop singers whose voices are weak but are famous for scandals," he said.
Lan said that the small space of night clubs has restricted the effects of rock music.
Tien Trung, a famous drummer and rocker, said that singing at night clubs are very tiring but he could earn only VND300,000-500,000 ($13-23) a show.
Ho Quang Hung said that Vietnamese rockers are brave to sing about problems in Vietnam's society but to develop, rock music needs a further open society.
Song writer Tuan Khanh, who has given up rock music to become an MC and a theme song writer, said: "Every detail in the life of pop singers appears on newspapers but I've rarely read news about rockers."
PV