VietNamNet Bridge - Le Thai Son, one of the countries' youngest art collectors, said Vietnam's art market needs an investment channel before it can really take off.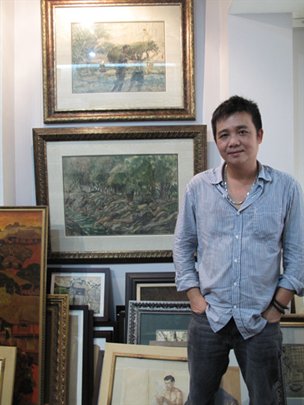 Art collector Le Thai Son in his gallery in HCM City's District 3
A collector for over a decade, owning paintings from over 100 artists from pre-war time to contemporary, Son partly understands the current condition of Vietnam's art market. He said that it is too spontaneous, boring and gloomy as many Vietnamese artists just paint as a movement, as a general theme without new, strange ideas and specific styles. Son insists the market needs an investment channel, like property, security, gold or agriculture needs their own transaction exchanges.

In the mid 1980s, when Asian economies were booming, the upper and middle classes of many Asian countries began showing an interest in art.

At that time, many western auction companies set up offices in Hong Kong and Singapore to make the most of the promising art scene in emerging Asian economies.

In Southeast Asia in particular, there are four internationally-renowned auction companies: Christie's, Sotheby's, Larasati and Borobudur. London-based Sotheby's, the world's third oldest auction house, opened its first Asian office in Singapore in 1985.

Vietnam also needs auction companies to allow artists to make a name for themselves, with their works becoming sought-after property.

You can't argue that Vietnam does not have the talent as Bui Xuan Phai and Le Pho's paintings have been auctioned by Sotheby's.

From 1996, when many foreign collectors and galleries looked to Vietnam, many local artists began promoting their works abroad such as Dang Xuan Hoa, Nguyen Thanh Binh, Nguyen Trung, Do Quang Em, Tran Luu Hau or Le Kinh Tai.

They sold their works through art investment channels abroad such as in the U.S., Singapore and Hong Kong.

"Artists work by creativeness and passion but live via food and drinks. Rich people in Vietnam can buy luxury houses, airplanes or boats worth millions of U.S. dollars but they hesitate to buy a painting worth thousands," said Le Kinh Tai.

La Huy said that although his works have earned praise from artists and the public, he hopes one day a Vietnamese art market exists without any support from foreign channels. "Now is a really tough time for artists in Vietnam when the market is too gloomy," Huy added.

Son added that artists cannot themselves promote their own works; they need dealers, curators, critics and auction companies to promote their works in public with their true values.

However, he is confident the local market will have its day. "Every product firstly needs their local market and I think Vietnam's painting market will boom maybe in 30 or 40 years when the nation's economy develops more and when the public have an appreciation and new taste for art, instead of buying counterfeited or imitated paintings as they do currently."

He says that is the reason he collects many worthy artworks now, in the hope they will blossom in the future.

Tran Thi Thu Ha, a collector and owner of Tu Do Gallery in HCMC's District 1, agrees with Son. She said that at the moment over 20% of Vietnamese people buy paintings, and this suggests a bright future for Vietnamese art.

Son owns hundreds of paintings from different generations of artists of the Indochina Fine Arts School (1925-1945), Gia Dinh painting school in 1913 such as Duong Bich, Tran Van Can, Le Nguyen Loi, Le Huy Hoan, Nguyen Hiem, Nguyen Cao Thuong, Hoang Tram, Van Tam, Luu Cong Nhan, Trong Kiem or from contemporary artists such as Phung Quoc Tri, Nguyen Huy Khoi, Nguyen Quang Vinh, Tran Hai Minh and Tai.

"Collecting paintings needs a lifetime. It requires collectors profound passion, love for arts, huge money to develop the passion as well as talents to distinguish real paintings with counterfeited works," said Son.

Son also has a website www.thaisongallery.com, introducing his collection together with information about the works and artists.

Thai Son Fine Arts Gallery & Collection is located at 92/30 Pham Ngoc Thach Street, Ward 6, District.3, HCMC. Tel: (84-8) 3820 6007.